Whitehouse Street regeneration
Whitehouse Street is a regeneration area located at the southern edge of Bristol city centre, between the New Cut, Bedminster Parade and St Luke's Road. It is flanked to the southwest by the Bedminster Green regeneration area and to the east by the Mead Street regeneration area, which together form a ribbon of development from Bedminster to Temple Meads. The Whitehouse Street regeneration contains eight development plots, four of which have been sub-divided. The area is predominantly occupied by light industrial and commercial uses.
Bristol City Council, in partnership with landowners and the local community, produced a regeneration framework to guide the transformation of the area. The process began in early 2021 and concluded with a formal consultation early in 2023.
Of the framework, Marvin Rees, Mayor for Bristol, said:
"At Whitehouse Street, we want to create a well-connected, healthy neighbourhood with integrated walking and cycling links, as well as high quality public spaces that feel welcoming for all. This is an opportunity to create a low-carbon new community that seamlessly blends homes, public spaces and employment."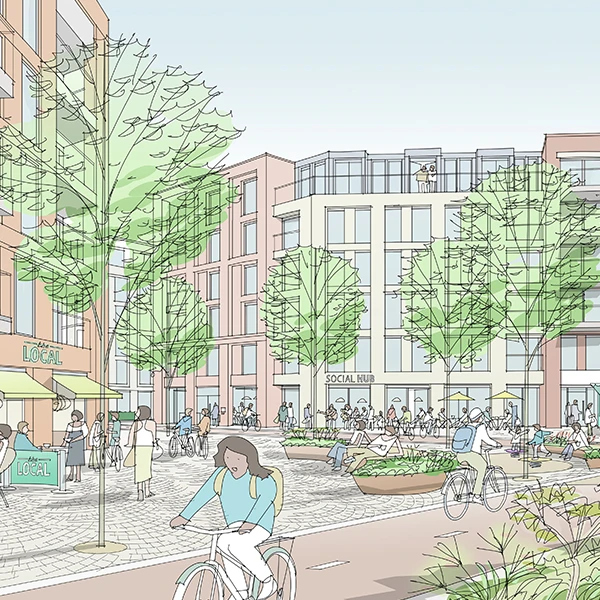 Story of Place
Learn about the character and history of Whitehouse Street through our story map. The aim of the story of Whitehouse Street is to inspire a new identity of place to be embedded within building and street design that acknowledges what Whitehouse Street was and what it is. It is also intended to inspire cultural interventions as part of a proactive placemaking process.
The Community Manifesto
We have worked with Action Greater Bedminster, a group that works to improve Bedminster and Southville, to create a Community Manifesto before starting any design work. To produce it, Action Greater Bedminster partnered up with Windmill Hill City Farm, The Sanctuary, Fun 4 Families and our Community Development team to reach a broad range of local stakeholders. This included those who do not normally engage with the development process, such as residents in hostels, visually impaired residents and foodbank users. The Community Manifesto put forward this vision:
We want Bedminster to thrive and grow, supporting diversity, sustainability and accessibility. Whitehouse Street can be a key part of this, complementing what is already in the area and creating new opportunities. It is a potential connector between Temple Quarter, Redcliffe flats, Bedminster and Windmill Hill.

Our priorities for the area are for it to be safe, inclusive and sustainable. We want it to support wildlife, to benefit the health and wellbeing of those who live and work in the area, and to appeal to a range of ages and backgrounds. The development should create a true community for current and new residents and businesses as well as being an asset to our neighbourhood.
The principles within the manifesto informed the Whitehouse Street Regeneration Framework and will therefore inform more detailed proposals for the area as the project progresses. Action Greater Bedminster remained involved throughout the production of the regeneration framework.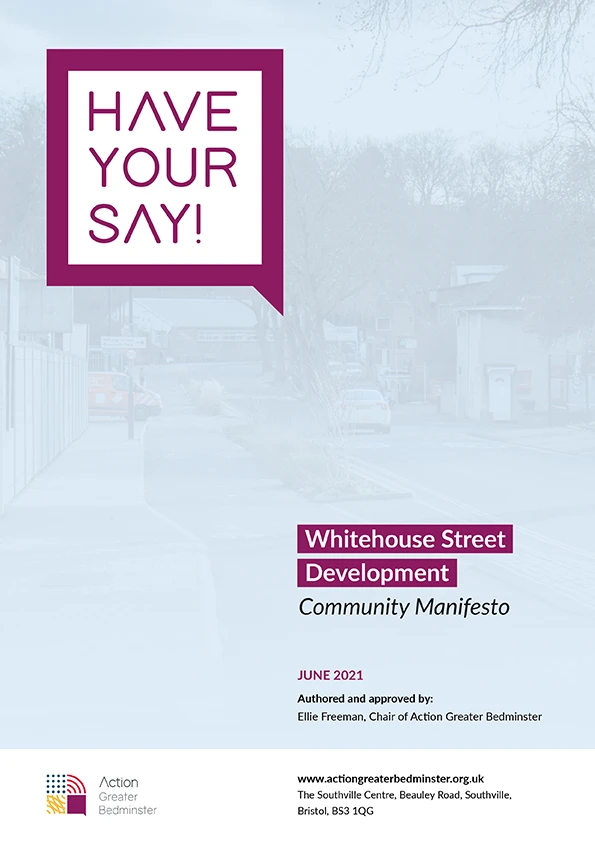 Community Manifesto Summary